Bahrain suspends opposition newspaper
Barhrain's government has suspended the country's only opposition newspaper, Al Wasat, accusing it of printing false information. The move comes amid a campaign to quell pro-democracy protests.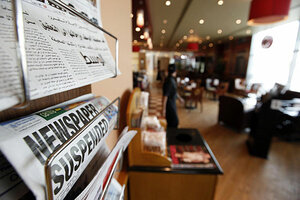 Hamad I Mohammed/Reuters
Bahrain's government suspended the country's only opposition newspaper Sunday, accusing it of printing false information about the ongoing democratic protest movement and of plagiarizing.
The newspaper's closure comes amid a campaign of intimidation by the government to suppress the protests that began in February demanding democratic reform and an end to discrimination against the kingdom's majority Shiite population. Al Wasat is the only newspaper in Bahrain without connections to the ruling family, and was one of few domestic news sources for information on the protest movement.
"The paper has adhered to lies, falsification and plagiarism as its guiding principles for the sake of deceiving its readers through publishing fabricated stories and photos, and thus directly and deliberately posing a real threat to the kingdom's security and stability," said Bahrain's state news agency, referring to an exposé it ran about Al Wasat.
Mansoor Al Jamri, the paper's editor until Sunday, said the state news agency's exposé was an orchestrated attempt to shut the paper down and get rid of him.
"There are external sources, there are people who are targeting Al Wasat and they want it out of independent journalism," he said. "They accused me of fabricating news. It was planted in our system. … They sent us news, and they penetrated our system."
The newspaper's board removed Mr. Jamri Sunday and appointed a new editor, and the Information Affairs Authority announced the paper could resume publication.
The exposé
The state television station, which has in the past few weeks given air time to personal attacks against Jamri and opposition figures, Saturday night aired a program claiming that the newspaper had not only printed lies about the recent unrest, but had published news and photos from other newspapers, changing names to make the articles relevant to Bahrain.
---