Yemen's neighbors step up role in pushing for Saleh's exit
The Gulf Cooperation Council is joining negotiations to end Yemen's political stalemate. Its role – especially that of Saudi Arabia, Yemen's largest donor – could prove far more influential than that of the West.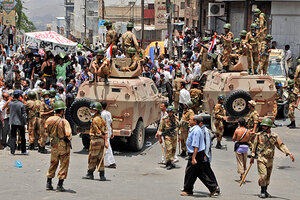 Yemen Lens/AP
Having defiantly rebuffed mounting calls for his resignation for more than two months, Yemen's president Ali Abdullah Saleh is now coming under intense pressure to step aside from the Gulf Cooperation Council (GCC), led by Yemen's largest donor, Saudi Arabia.
On Sunday, the GCC, a political and economic union of six Gulf countries, announced that it would take part in negotiations to end Yemen's political stalemate. The standoff has claimed more than 100 lives in a series of violent attacks on antiregime demonstrators.
The rising assertiveness of the GCC may prove pivotal in addressing the deepening unrest in Yemen, roiled not only by political uncertainties but a looming economic crisis as well. While the West, which once backed Mr. Saleh, has become vocal about its desire to see the president step down, it is unlikely that it has the political leverage alone to compel change. What may be more important to breaking the country's dangerous political standoff will be its neighbors – especially Saudi Arabia.
"The Americans probably don't have as much influence as they would like," says Christopher Boucek, a Yemen analyst at Washington's Carnegie Endowment for International Peace. "The amount of support and financial assistance that [the US] gives Yemen is relatively small compared to other donors like Saudi Arabia, which has much more direct influence."
---