Egypt's Army, once the darling of protesters, is now the subject of criticism
The Egyptian Army used to be considered the 'defenders of the people,' but the military council's failure to put former President Hosni Mubarak on trial has raised protesters' ire.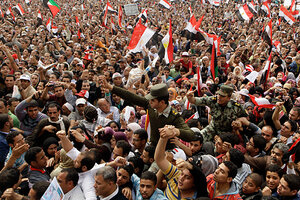 Maya Alleruzzo/AP
Tens of thousands of Egyptians returned to protest in Tahrir Square Friday, signaling their growing impatience and dissatisfaction with the military officers who have ruled the nation since former President Hosni Mubarak was forced from power in February by a popular uprising.
In what was dubbed a "Day of Cleansing," protesters filled the square to demand that Mr. Mubarak be put on trial, and express their anger that former officials suspected of corruption had not yet been brought to justice. They directed chants toward Field Marshal Mohamed Hussein Tantawi, who leads the military council temporarily in charge of Egypt, urging him to act. One woman stood silently wearing a sign addressed to Tantawi that read, "Are you with us or against us?"
Such open questioning of the military is a marked departure from the early days of the movement, when Egyptians showered the Army with flowers and saw them as defenders of the people after tanks rolled into the streets to restore order after violent clashes with police. That goodwill, which lasted even after the Army stood silently by while government-paid thugs attacked peaceful protesters, has begun to fray. Some Egyptians now wonder if Mr. Tantawi, Mubarak's long-time defense minister, is shielding his former boss from prosecution.
---