On Facebook and Twitter, spreading revolution in Syria
Social networks are playing a central role in fueling protests in Syria, where demonstrations Friday were the largest since anti-Assad activists took to the street last month.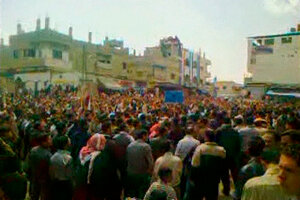 Amateur Video via Reuters TV/Reuters
Five years ago, Malath Aumran was a normal young Syrian man with little interest in politics and, like millions of his fellow countrymen, a passive supporter of the regime of President Bashar al-Assad.
But a brutal act of violence set him on a path of political activism that today has turned him into an exile hiding in Beirut. Now, surrounded by laptop computers and Internet cables, the young, technologically savvy activist is using social networking tools to help build and sustain the popular uprising that has convulsed Syria and shaken the regime in the past three weeks.
Mr. Aumran has joined the growing ranks of Internet activists playing a critical role in the Middle East uprising. Not only have they organized protests via Twitter and Facebook, they are using YouTube and Flickr to post videos and photos, often documenting government abuses, when traditional media has been shut out. While many factors gave rise to this new Arab spring, the Internet and social media helped it spread quickly.
"The regime is ready to do anything against us, including committing massacres," he says. "But we are telling the regime that if you shoot and kill people the pictures will be online and on television five minutes later."
---