On anniversary of Saddam's fall, Iraq's Sadr issues warning on US presence
Hardline Shiite cleric Moqtada al-Sadr rallied thousands of followers Saturday. Their message: United States civilians as well as troops must leave by the end of the year.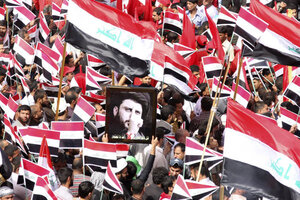 Kareem Raheem/Reuters
Hardline Shiite cleric Moqtada al-Sadr mobilized tens of thousands of followers Saturday, using the anniversary of the toppling of Saddam Hussein's regime to issue a warning to American civilians as well as soldiers that it was time to go.
Far from Baghdad's Firdous Square, where US Marines helped Iraqis bring down Saddam Hussein's statue in 2003, the cleric's supporters marched from Sadr City to Mustansiriya Square, near a major university in northeast Baghdad. Black smoke rose from the square from the burning American flags, and protesters set up a grisly display of Americans in business suits being burned in cages.
"We are time bombs," the protesters chanted between a choreographed wave of young men dressed in the satin colors of Iraq's flag.
The protest was the first major Sadr demonstration since demonstrations began sweeping the Arab world this year. Sadr – who has reinvented himself as s serious political figure after his leadership of the paramilitary Mahdi Army, which fought US forces in 2004 – has called for restraint in protests against the Iraqi government, in which his party members now play a key role. Instead, the young cleric has used the possibility of massive protests as a veiled threat against the government.
Mr. Sadr is in Iran, where he is pursuing his religious education. But in a message read by senior Sadr party official Saleh al-Obeidi, Sadr urged his followers not to stand by if there were still a significant American presence here next year – civilian or military.
---