Tensions high as Egypt protesters accuse Army of turning on them
More than 1,000 pro-democracy protesters continued to occupy Cairo's Tahrir Square Sunday, one day after the Army – until now seen the guardian of the revolution – appeared to have fired live rounds into crowds, killing at least one protester.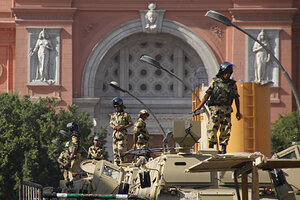 Amr Nabil/AP
Tensions are high in Egypt after a deadly weekend in which the Army, for the first time since it rolled into the streets Jan. 28, appeared to have used live ammunition to disperse protesters from Cairo's Tahrir Square, killing at least one and injuring scores.
The Supreme Council of the Armed Forces, which has ruled the country since pro-democracy protesters forced the ouster of former President Hosni Mubarak on Feb. 11, said Saturday that it did not fire live ammunition at protesters. It blamed the violence on thugs paid by remnants of Mr. Mubarak's regime to turn popular opinion against them.
But multiple witnesses of Friday's clashes described seeing and hearing gunfire from the Army, and many of the protesters now say they've been betrayed by the same institution that had acted as the guardian of their revolution.
More than 1,000 protesters continued to occupy the square Sunday, barricading the entrances with burned-out trucks and barbed wire, as the now-famous epicenter of the revolution began to look more like the battlefield it resembled in February. And in the aftermath of the confrontation, many seem unsure of what comes next.
"This is a very critical situation now. I don't know what we'll do," says Ahmed Salah, who was present before dawn Saturday when the military attacked the protesters. "But now people know that the Army is not protecting the revolution. So there's no need to play games anymore, to pretend."
Adding to the sense of uncertainty Sunday, Saudi Arabian television channel Al Arabiya broadcast an audio recording of Mubarak – now under house arrest in the Sinai resort town of Sharm el-Sheikh – denying having used his position to amass wealth and threatening to sue those who damaged his reputation.
---