Mubarak and sons' detention a victory for Egypt's opposition
Mubarak is under questioning and he and his two sons are being transferred to a Cairo prison. Egypt's military rulers appear to be responding to escalating public pressure to see the former president behind bars.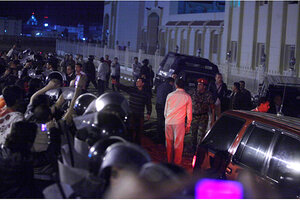 Amr Nabil/AP
Egypt's public prosecutor ordered former Egyptian President Hosni Mubarak and his two sons detained Wednesday for 15 days for corruption investigations, in what appeared to be a response by Egypt's military rulers to escalating pressure from protesters to see their former ruler behind bars.
Egyptian state television reported that Mr. Mubarak's son Gamal, who just six months ago was widely seen as being groomed to take power, and his older brother Alaa were transferred to Cairo to be detained in Tora prison after the public prosecutor ordered them held as the investigation unfolds.
Mubarak himself was reportedly being interrogated in the Sharm El Sheikh hospital that admitted him Tuesday after he reportedly had a heart attack after questioning began at his residence. Local media reported that he would be transferred to a hospital in Cairo for the investigation.
IN PICTURES: Egyptian protests
While there is scattered sympathy for Mubarak, public anger far outweighs it. Last Friday, tens of thousands of Egyptians gathered in Tahrir Square to demand their former president, his family, and his cronies be put on trial for allegedly using state funds for personal gain.
---