Palestinians build support for statehood at Brussels meeting
The Palestinian Authority has gained a crucial boost from the IMF and World Bank ahead of a possible UN vote on statehood in September, as Arab unrest adds urgency to their cause.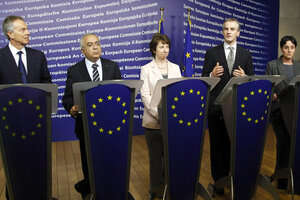 Thierry Roge/Reuters
Palestinians accelerated their drive toward statehood recognition at an international meeting in Brussels Wednesday, but it comes amid worry that Middle East unrest may further complicate prospects for peace by altering the regional landscape.
With peace talks with Israel already mothballed, Palestinians are pursuing a United Nations vote on statehood in September – a goal that seems more likely after foreign donors heard upbeat endorsements of the Palestinian Authority's (PA) ability to govern a sovereign state.
But others say the rising tide of Arab unrest could work against both the PA and Israel. For the PA in the West Bank, demonstrations in the region could spur protests against the lack of political progress, such as the five-year absence of elections or the failure of peace negotiations. It is missing an important ally due to instability in Egypt, which had significant sway over Hamas militants in the Gaza Strip.
---