Syrian revolution spreads, with largest protests yet
Syrian protests, which reached unprecedented numbers today, have spread to the key cities of Aleppo and Hama. The unrest has begun to draw in Lebanon.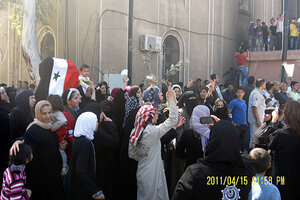 AP
Syria witnessed its largest antiregime demonstrations across the country today since the popular uprising for greater freedoms began a month ago.
While the uprising has not yet reached the critical mass necessary to pose a serious threat to the regime of President Bashar al-Assad, it is evident that the protests are spreading and intensifying. Antiregime demonstrations have become a daily occurrence, instead of being confined to Fridays. And they are no longer limited each day to the southern city of Deraa, where the rallies first began and which has become the epicenter of dissent.
Although the regime has offered some concessions, such as releasing detainees, forming a new government, and examining alternatives to the draconian state of emergency law, they have fallen far short of the demands of the protesters. Furthermore, the harsh suppression of the demonstrations by Syrian security forces, in which over 200 people have died according to human rights agencies, has served only to galvanize fresh protests.
RELATED: How Syria and other countries use emergency rule to quash dissent
Human Rights Watch (HRW) on Friday accused Syria of arbitrarily detaining hundreds of protesters across the country and subjecting them to torture and ill-treatment. HRW said it had interviewed 19 people along with families of some detainees. They reported having been beaten repeatedly with whips and cables and suffered electric shock torture. Most of them had been held in overcrowded cells and deprived of sleep, food, and water – in some cases for several days.
---