Court order to dissolve Egypt's NDP deals body blow to old power structure
In the absence of the National Democratic Party (NDP), the electoral field in September will be wide open for the Muslim Brotherhood to perform strongly.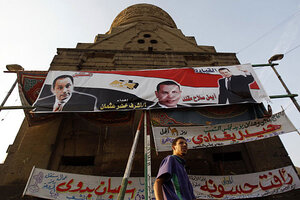 Amr Abdallah Dalsh/Reuter/File
The gutted headquarters of Egypt's former ruling National Democratic Party (NDP) sits blackened and abandoned after having been torched during February's pro-democracy revolution. Many of the party's leading figures are now in jail awaiting trial or charges.
Still, many in Egypt had feared that the party of ousted leader Hosni Mubarak could yet use its vast organizational network and resources to roll back the revolution – and win a wide swath of seats in parliamentary elections scheduled for September.
Those concerns subsided Saturday when Egypt's Supreme Administrative Court ordered the dissolution of the NDP.
"It's illogical for any instruments of the regime to remain, now that the regime itself has fallen," said the court in a statement. The court also ordered the party's vast assets be liquidated and the funds turned over to the state. "This money is actually the money of the people," it said.
The decision, which meets a key demand of the revolutionaries, comes after several moves by Egypt's interim military rulers that indicate a desire to defuse criticism that they had not been moving quickly enough to dismantle the old power system Egyptians went to the streets to overthrow. Last week, for instance, Egypt's public prosecutor ordered Mubarak and his two sons detained for 15 days for corruption investigations.
Makeover coming?
The NDP had tried to remake itself in recent weeks, with a new leader who expelled some members and christened it with a new name. But even if the remaining members of the NDP form a new party, it will not be a threat in September, says Emad Gad, an analyst at the Al Ahram Center for Political and Strategic Studies.
The party's basis of power is gone, and "respectable" figures in the party have already left, with most looking to join other parties, says Mr. Gad.
---