How Bahrain's crackdown is pushing both sides to extremes
By cracking down on dissent and refusing to negotiate with the opposition, Bahrain's ruling monarchy has pushed some protesters into the arms of more hardline groups.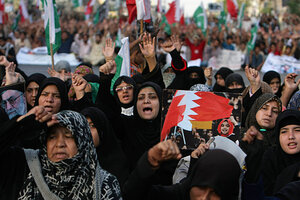 Fareed Khan/AP
In the festive early days of Bahrain's protest movement, youthful protester Yousif joined thousands of people in the Pearl roundabout calling for the ruling family to implement democratic reforms.
Those heady days in February now seem a world away. In the days since, at least 29 people have died and more than 500 have been arrested in a government crackdown that has extended beyond protesters to the majority Shiite population. Yousef doesn't even drive now, for fear of encountering checkpoints where he might be beaten or detained.
"At the beginning, we were asking for a constitutional monarchy. But after all these people have died, we want the regime gone," says Yousif.
Bahrain protests: Five key facts
Yousif's sentiment illustrates the complicated reality toward reaching a political solution in Bahrain – something that opposition politicians, outside observers, and Western diplomats all agree is needed. Instead of creating a roadmap for such a solution, the government's ever-widening crackdown is erasing hope of a negotiated end to the crisis. In the process, the government is pushing some Bahrainis into the arms of more hardline groups, undermining the ability of mainstream opposition groups to lead future negotiations.
The government's strategy of crackdowns cannot be a long-term solution, says a Western observer in Bahrain who asked not to be identified to avoid repercussions from the government.
---