End of emergency rule in Syria unlikely to quell protests or stop arrests
The Syrian cabinet on Tuesday passed legislation lifting nearly five decades of emergency rule. The concession may embolden protesters to demand greater reforms.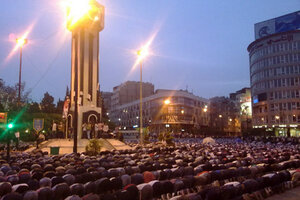 AP
Syrian President Bashar al-Assad was today expected to officially lift the emergency law that has allowed arbitrary arrest, banned demonstrations, restricted the media, and allowed eavesdropping for nearly five decades in the repressive Arab state.
But this milestone is unlikely to change reality on the ground, as Syria's cabinet on Tuesday also passed new legislation requiring demonstration permits from the Interior Ministry. And even without the emergency law the government has the legal authority to quash protests and arrest demonstrators, says Rime Allaf, a Syrian political analyst at London's Chatham House.
"It will not change reality," she says in a phone interview from Vienna. "Plenty of laws in Syria allow the government to arrest citizens and accuse them of many different crimes."
RELATED: How Syria and other countries use emergency rule to quash dissent
President Assad has repeatedly made end-of-week concessions in an attempt to quell the violent post-prayer protests on Fridays. "It will not stop protests," says Ms. Allaf. "I used to be more careful with my predictions. Right now, I can say more strongly and confidently, I don't think it will prevent anything. People are infuriated by the killings that the regime has done over the past few days. The mood is very defiant."
---