Saleh's deadly crackdowns deepen Yemen protesters' resolve
Three protesters were killed and dozens injured Tuesday when Yemeni government forces loyal to President Ali Abdullah Saleh dispersed crowds protesting Mr. Saleh's rule.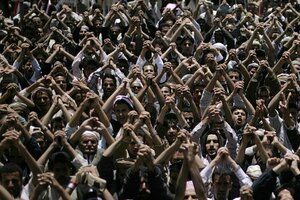 Muhammed Muheisen/AP
Just hours before the United Nations Security Council Tuesday evening met to discuss the political deadlock in Yemen, security forces and plain-clothed gunmen opened fire on a crowd of thousands as they marched through the capital, Sanaa. Three were killed, and dozens of others injured by the gunshots.
"Central Security had cut off the road when we approached," says young protester Abdel Rahman Sharif. "It was peaceful. People at the front of the march were even talking with them, then suddenly they started shooting." Mr. Sharif was lying in the prayer area of a mosque-turned-hospital, bandaged after an old tear gas grenade exploded and sent shards of shrapnel into his knee.
Hundreds of others injured in the melee lined the streets of Sanaa's demonstration area, some unconscious, others convulsing in response to tear gas inhalation. Earlier in the day, uniformed security fatally shot one anti-regime demonstrator in the city of Taiz, 140 miles south of the capital.
More than 100 have been killed since calls for the resignation of President Ali Abdullah Saleh, who has ruled for 32-years, began in January. Rather than cow the protesters, however, Mr. Saleh's use of deadly force only seems to deepen their resolve to bring down his government as soon as possible.
"I'll die for the success of this revolution," says Khaled al-Harazy who was being treated after exposure to tear gas. "This isn't the first time I've been in this hospital."
Security Council fails to agree on a statement
---