Gulf Council presents Yemen's Saleh with exit plan
The GCC's latest proposal, which lays out a plan for Yemeni President Saleh to step down within 30 days, includes immunity from prosecution.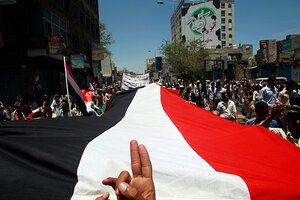 Khaled Abdullah/Reuters
Yemeni President Ali Abdullah Saleh was presented with a proposal on Thursday that would have the embattled leader step down within 30 days in exchange for immunity from prosecution.
The proposal came from Gulf Cooperation Council (GCC) Secretary General Abdullatif Al-Zayani, who met with Mr. Saleh in Sanaa to deliver the latest bid to end nearly three months of political deadlock. The president has not yet responded, and it's unclear whether he'll accept.
According to a Yemeni government official, the plan is based on an American and European initiative known as the 30-60 Plan. It offers immunity for Saleh and his family if he selects a new deputy, transfers executive powers, and resigns within 30 days. Elections would be scheduled to take place 60 days after Saleh's departure.
That the GCC is led by Saudi Arabia, Yemen's largest donor and the only country to contribute direct budgetary assistance, adds pressure on Saleh. While this is not the first GCC attempt to negotiate Saleh's ouster, the new proposal may gain traction because it would allow him to select his successor in addition to having immunity.
---