Tech diplomacy: Israeli CEO hires Palestinian programmers
Doing so costs more for Eyal Waldman than outsourcing to Eastern Europe. But the CEO of Israel's Mellanox Technologies says the investment in peace is worth it.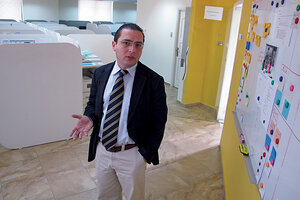 Joshua Mitnick
The last time chief executive officer Eyal Waldman had been to the Israeli-occupied West Bank was as a soldier. But when he needed to outsource some work for his fast-growing Israeli technology company, he chose an unconventional solution: hiring Palestinian programmers from Ramallah.
The year-old experiment has worked so well that the firm, Mellanox Technologies, expects to establish a research and development center in Ramallah. Even if it costs more than a similar operation in Eastern Europe, Mr. Waldman says there's an intangible upside: boosting political stability by employing Israel's neighbors.
"We think that it makes our whole economy and whole geopolitical situation better," he says.
The CEO's vision of business and politics harks back to the 1990s, when excitement about the Israeli-Palestinian peace process prompted talk of a new Middle East – including burgeoning economic ties between Israel and Arab countries.
But in the ensuing decade Israel erected a security barrier to prevent Palestinian attacks, making any cooperation with Palestinians at least seem like a pipe dream.
In recent years, however, the Palestinian uprising has subsided and Israel has relaxed some of its movement restrictions, giving the West Bank economy a chance to grow. It's also provided an opportunity for cross-border joint ventures.
A viable Israeli-Palestinian business model
Mellanox's development teams usually hold meetings via video conference, but Palestinian programmers also travel through Israeli military checkpoints at least once every two weeks for meetings. Waldman himself has twice visited Ramallah, where he was impressed by the building boom under way in the city – the seat of the Palestinian government.
---