Why the West need not fear Libya's Islamic warriors
Many Libyan rebels are devout Muslims; some have even supported Al Qaeda against US troops abroad. But Western support has raised their opinion of the US.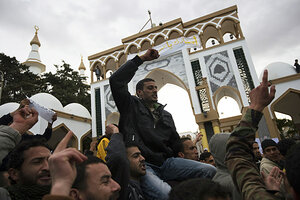 AFP/Newscom
Clad in combat fatigues, Abdel Hakim Hasadi relaxes in the lobby of Derna's opulent Pearl Hotel. The devout Muslim schoolteacher-turned-rebel commander is at ease with his emerging status as the leading figure in a city with a long and important history of Islamic piety.
But the rise of men like him is making Western officials uncomfortable. NATO Adm. James Stavridis warned last month of "flickers" of Al Qaeda in the uprising against Libyan dictator Muammar Qaddafi, and a 2008 US diplomatic cable called the city of Derna a "wellspring" for anti-American fighters in Iraq.
Indeed, a strong current of Islamic fundamentalism runs through this Mediterranean city in Libya's rebel-held east; many of its young men did go to Iraq and Afghanistan to fight US troops. And while Derna has a population of only 100,000, its influence extends throughout the country, giving the West pause about whether a post-Qaddafi Libya could be colored by Islamist fundamentalism.
RELATED: Libya uprising's key cities
But many Libyans say this holy city will pose a threat only if Qaddafi is able to once again brutally suppress this uprising the way he did a smaller one in the late 1990s.
Mr. Hasadi dismisses the idea that Al Qaeda will somehow take root amid the Libyan unrest.
---