Syria's military shows signs of division amid crackdown
Some soldiers reportedly refused to open fire against civilians in Deraa today, sparking clashes between units. A divided military could prove the undoing of Assad's regime.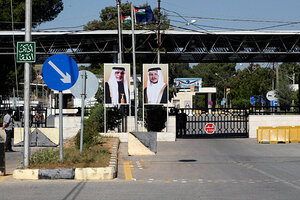 Majed Jaber/Reuters
Cracks may be emerging in Syria's military as more soldiers appear to be taking a stand against firing on protesters six weeks into the popular uprising against President Bashar al-Assad.
Syrian security forces launched an offensive against several flashpoint towns at dawn today, closing the border with Jordan and using tanks and live ammunition to clear streets and arrest suspected protesters, according to opposition activists and eyewitnesses. But Syrian military units reportedly clashed with each other in Deraa when soldiers refused to open fire.
The report follows numerous other refusals as well as a spate of assassinations of military officials said to be sympathetic to the protesters, according to opposition activists.
Any split that emerges in the Army, which together with the intelligence services forms the state's principle means of enforcing its will, would present an unprecedented challenge to the Assad regime's four-decade rule and cast serious doubt on its ability to survive.
Today's intensified crackdown came after the worst protest violence yet witnessed, with more than 120 people killed since Friday. The sudden surge of casualties appears to have spurred the United States into considering sanctions against Syrian officials, The Wall Street Journal reported Monday.
The report comes a day after Human Rights Watch called for sanctions against Syrian officials found responsible for using violence to suppress the anti-regime protests that have swept the country since mid-March.
---