Palestinian unity deal gives Netanyahu new line of attack
In upcoming visits to the US and Europe, Israel's prime minister is likely to argue against UN recognition of Palestinian statehood now that Hamas is joining Fatah at the helm.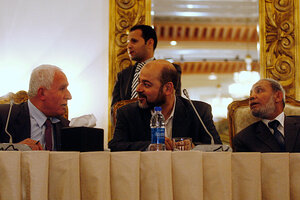 Khalil Hamra/AP
After months of playing defense against a Palestinian campaign for international recognition of statehood, Prime Minister Benjamin Netanyahu may now have a new line of attack.
The Palestinian reconciliation deal announced in Cairo yesterday would pave the way for a unity government between Palestinian Authority President Mahmoud Abbas's Fatah party and Hamas, considered a terrorist group by Israel, the US, and the European Union.
The prospect of a Hamas-Fatah government allows Mr. Netanyahu to argue that the international community shouldn't give its blessing to a state run at least in part by a terrorist group that doesn't recognize past peace accords – or even Israel itself. But he faces a challenge: the West sees reconciliation between Fatah and Hamas as a prerequisite for peace and sometimes portrays Israel as obstructionist for taking firm stances on issues like settlement expansion.
---