Yemen protesters jeopardize deal on Saleh's exit
At least 10 Yemen protesters were killed Wednesday when they marched through a heavily contested area of the capital, a route that seemed intended to incite a violent response.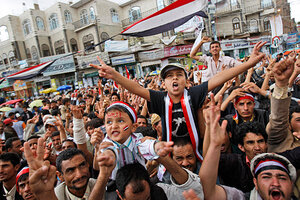 Hani Mohammed/AP
A surge in violence across Yemen threatens to derail Sunday's meeting between the government and opposition to finalize a plan for longtime President Ali Abdullah Saleh to transfer power in 30 days in exchange for immunity.
At least 10 demonstrators were killed Wednesday when plainclothed gunmen fired on thousands of demonstrators marching toward a heavily contested area of the capital, Sanaa, to protest the plan, according to doctors in a field hospital. Hundreds more were wounded as demonstrators staged a standoff, hurling rocks and Molotov cocktails at government supporters, according to witnesses.
Demonstrators nationwide have opposed the deal, the product of months of negotiations led by the international community, and pledged to continue protests. Their aim, as underscored by choosing a marching route Wednesday that wound between government soldiers and a loyalist campground, seemed to be to incite a violent response that will derail the current deal.
"We fought them for at least an hour," says Shuaib al-Qadima, a teenage demonstrator injured amidst the volley of stone throwing Wednesday. "Saleh can't just end this revolution the way he wants. We don't want initiatives or discussions. We want him to go."
Opposition threatens to pull out
In response to the latest unrest, the umbrella opposition coalition known as the Joint Meeting Parties (JMP) said in a statement Thursday that such violence could undermine Sunday's meeting, which is to be held in Riyadh.
"In the event of your [the government's] inability to protect protesters, we will find ourselves unable to pursue an agreement that the regime seeks to use to shed more blood," the statement said.
---