Libyan fighting spills into Tunisia
Scores of Qaddafi loyalists crossed into southern Tunisia on Friday following a failed attempt to recapture a border crossing controlled by rebels.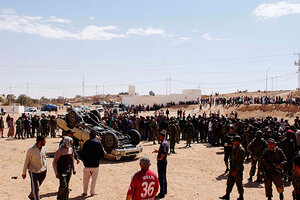 Anis Mili/Reuters
Libya's civil war spilled into southern Tunisia on Friday, as scores of troops loyal to Col. Muammar Qaddafi burst across the border and into a nearby town. The foray came after loyalists failed to recapture a remote border post that has become a rebel lifeline.
Two Libyan government rockets landed in the Tunisian town of Dehiba and angry residents attacked one of the Libyan military vehicles with stones, causing it and its antiaircraft gun to overturn, killing the driver.
The presence of armed forces blasting their weapons inside a neighboring country would have been an international incident anywhere else. But the ebb and flow of this conflict – and the porous desert border between Libya and Tunisia – meant that Tunisian officials could do little to stop the incursion. The Tunisia military and border police pulled back entirely from their border positions during the heaviest fighting late Thursday.
The rebel flag was raised again at this post on Friday morning, the final result of a three-pronged attack by Colonel Qaddafi's forces that began Thursday afternoon. The battle initially brought victory to loyalists – and a raising of their green flag for the first time since rebels seized control here one week ago.
Battle on the border
But a fierce battle that stretched into the night saw loyalist troops surrounded and finally forced to flee, with 162 entering Tunisia with 18 vehicles.
The Tunisian military disarmed the Libyans, but then escorted them back to an illegal crossing point frequented by smugglers. The loyalists were given back their arms and expected to resume their fight.
---