For many Arabs, Osama bin Laden had already lost his appeal
'We have clearly passed the Osama bin Laden era, and we are firmly into the Bouazizi era,' said one columnist, referring to the Tunisian man whose self-immolation sparked revolts across the Mideast.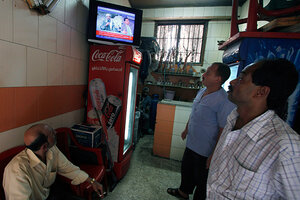 Khalil Hamra/AP
The news of Osama bin Laden's death elicited a tepid response across parts of the Middle East, underlining the shift into a new era as popular uprisings render Al Qaeda's ideas increasingly irrelevant.
The understated reactions in Egypt and some other Arab nations treated bin Laden and his ideas as a relic of the past, who has little appeal in a time when populations across the region are finding empowerment through peaceful protests.
"I think now we have clearly passed the Osama bin Laden era, and we are firmly into the Bouazizi era," says Hussein Shobokshi, a columnist for the Saudi newspaper Asharq Alawsat, referring to the young man whose act of self immolation ignited the revolution in Tunisia that spread to the rest of the Arab world. "There is a grand difference between the two. One is from a very disturbed, annoying past and one is belonging to a promising future."
In Cairo, the announcement elicited discussion – including widespread skepticism that bin Laden was really dead – but little fervor. "We don't really care about him anymore," says Cairo University student Mohamed. "For us, it is not very important news. We are not looking at Al Qaeda, we are looking at how will we build our own country after the revolution."
---