Palestinians optimistic on Hamas-Fatah unity deal
Palestinians see the Hamas-Fatah unity deal to be signed in Cairo today as strengthening their push for statehood. But they say that reconciliation will be a year-long project at least.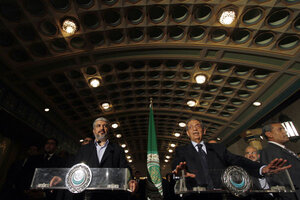 Khalil Hamra/AP
As the two leading Palestinian factions came together in Cairo today to sign a reconciliation pact, Palestinians are optimistic that the Arab Spring may help mend a four-year split and strengthen their push for statehood.
"The opinion of all Palestinians is to get united. It brings them a sense of power, and a sense of strength, and a sense of unity to be able to deal with Israel," says Bassem Ezbedi, a political science professor at Bir Zeit University in the West Bank. He acknowledged that there are "all sorts of obstacles," some of which could be "explosive."
Indeed, just as Arab countries around the region are grappling with new forms of government, Palestinians understand that achieving harmony between the Islamist militant rulers of the Gaza and the Western-backed secular party that controls the West Bank will be a year-long project at least.
Hamas-Fatah divide evident over bin Laden's death
Fundamental differences persist between Hamas and Fatah, as underscored by their contradictory responses to Osama bin Laden's death this week.
---