Foreign doctors, nurses stand by Libyans amid rocket fire
At the Nalut Central Hospital, some 50 foreign doctors and nurses continue to treat the Libya rebels – and injured pro-Qaddafi forces – despite no pay and nearby rocket fire.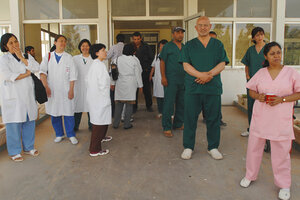 Scott Peterson/Getty Images
Perched on the edge of a rugged escarpment, Nalut has been rendered a ghost town by the civil war in Libya. Stores are shut in this rebel enclave, and women and children have been whisked to safety across the border to Tunisia.
At first glance, the only presence appears the rough-hewn rebel fighters, racing through town in battlewagons smeared with sand to battle troops loyal to Col. Muammar Qaddafi.
On closer look is another group that quietly clings to their duties despite nearly three months of conflict and a Katyusha rocket crashing into their compound: 50-odd foreign doctors and nurses assigned to the Nalut Central Hospital. Coming from as far afield as Ukraine, Pakistan, and North Korea, they have spent years caring for Libyans and have now chosen to stand alongside them despite the risks.
"After we are here for six or seven years, when it was good, when it gets bad we escape?" asks Dr. Hussein, a long-bearded doctor from Egypt, as if the thought never crossed his mind. "That does not say much for human character. It is not a shame to run away, but it is our duty to stay."
---