What happened to the metal codices that promised Christian revelations
The tiny books have stirred debate over the Christian 'secrets' they could contain and who can sell them. Now, they may never be decoded.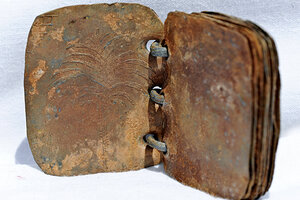 David Elkington/Rex Features/Rex/Rex USA
Amman and Tiberius, Jordan
Hailed by some Christian scholars as potentially the most significant discovery since the Dead Sea Scrolls, 70 metal books are set to be the center of an international legal showdown of biblical proportions.
When a British team unveiled in March metal texts believed to date back to the final days of Christ, biblical scholars were abuzz with possibilities: early Christian diaries, secrets of the Bible, the sealed texts of the book of Revelation.
The question of ownership of the credit-card-sized books, which may bear the earliest likeness of Jesus Christ, and just how they ended up with an Israeli Bedouin truck driver have raised doubt over whether the messages allegedly sealed in lead some 2,000 years ago will ever be decoded.
A father of four from an Arab village in northern Israel, Hassan Saeda approached British experts four years ago with books that he claimed were inscribed in ancient Hebrew. After detecting religious symbols on the texts and a metallurgy report dating the books to the early 1st century AD, the books went from a probable hoax to potential treasure-trove, says David Elkington, author and member of the British team. "I fundamentally believe that what we have are the earliest-ever Christian documents."
---