Amid Syria's turmoil, Israel sees Assad as the lesser evil
While Syria's 40-year Assad regime has fought multiple conflicts with Israel, it has also been a stable neighbor – making Israelis uneasy about the prospects of Islamists gaining power next door.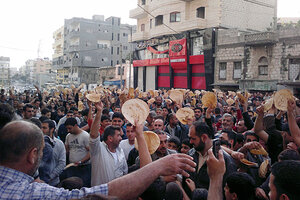 AP
As Syria's Assad regime buckles under mass protests for reform and democracy, neighboring Israel is watching with unease.
True, the downfall of Syrian President Bashar al-Assad would ostensibly remove a key player in the Iranian-led alliance threatening the Jewish state on several fronts. But Syria under Mr. Assad has been a stable neighbor and maintained a regional balance that officials and analysts fear could crumble – providing an opening for hard-line Islamist groups.
"I prefer the political extremism of Assad over religious extremism," says Ayoub Kara, a parliament member from Prime Minister Benjamin Netanyahu's Likud party. "We don't want religious extremism on the border."
Two worst-case scenarios envision a boost for groups considered Islamic radicals. In one, Iran could gain greater influence in post-Assad Syria. In the second, contradictory scenario, the Syrian branch of the Muslim Brotherhood could control a new government.
While most analysts agree that the fall of Assad's regime would remove a reliable ally of Iran, the Islamic Republic might use that power vacuum to forge a closer bridge to Hezbollah or gain sway over a fledgling Syrian ruler. And even the weakening of Assad's rule could give Iran an opportunity to expand its influence in Syria, by propping up Assad.
---