Sectarian violence in Cairo has Egypt on edge
Egyptian military rulers are promising swift justice for participants in sectarian riots in Imbaba neighborhood of Cairo that left 12 people dead.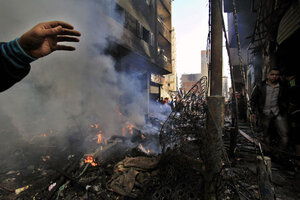 Khalil Hamra/AP
An attack by Muslims on two churches in Cairo led to sectarian clashes that claimed at least 12 lives, a reminder that Egypt's religious rift has continued to widen since the successful uprising that pushed Hosni Mubarak from power.
The violence in the Cairo neighborhood of Imbaba, declared in the 1990's to be "liberated" from the Egyptian state by Islamist militants, also highlights the growing role the salafis, a small and strident Muslim sect, are playing in exacerbating sectarian tensions. The salafi strain of Islam, which feeds most militant Sunni movements, was publicly repressed under Mubarak and has been taking advantage of the more open environment since his downfall.
"There is no security in Egypt," says Rober, a 23-year member of the Virgin Mary church, which was largely reduced to a smoldering hulk after it was set alight Saturday night. He stood in a burned-out stairway and watched as a woman walked past, weeping. "This is only the beginning. I'm afraid for my sister, for my mother, from the salafis."
On Sunday, stories of what happened Saturday night varied wildly in Imbaba's maze of dirt alleyways. The sprawling neighborhood on the west side of the Nile is poor and mostly Muslim, but has large pockets of Coptic Christians, who account for as much as 10 percent of Egypt's population. The sectarian violence also left 200 injured and saw police and army forces move into the area and impose a curfew. They blocked access to the St. Mina church, where the violence began.
---