Poor, minorities push back against booming Turkey's urban renewal
The economic boom in Turkey that is driving urban renewal is also forcing many minorities and the poor from their homes. Now, some are fighting back with lawsuits.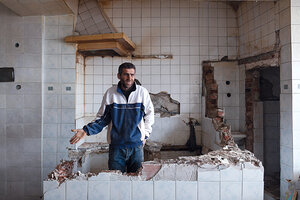 Jonathan Lewis
Standing in his gutted cafe, Ahmet Bulut ponders his sudden transformation from proud shop owner to scrap-metal gatherer.
His Kurdish neighborhood, situated in this picturesque city overlooking the Aegean Sea, is being torn down to make way for a park and recreation area. He was paid 40,000 Turkish lira ($25,000) for his cafe and two apartments, but it was not enough for him to afford one of the new apartments built down the road.
Now he and scores of others comb the rubble, salvaging whatever they can find of value. "This is a terrible way to live," he says. "We are making our living from the destruction of our own community."
RELATED: Think you know Europe? Take our geography quiz.
The demolition of Mr. Bulut's neighborhood of Imariye is the latest in a series of urban-renewal programs driven by Turkey's rapid modernization.
While the economic boom is elevating the quality of life for many, critics say that authorities are driving some of the country's most persecuted communities further into poverty, while yielding handsome profits for developers and authorities.
Former residents like Bulut are offered housing on the fringes of cities, but the price tag is often too high. Now, urban planners and residents are fighting back with lawsuits both in Turkey and the European Court of Human Rights (ECHR).
"In many cases there's no next step offered for these people," says Andrew Gardner, Turkey researcher for Amnesty International. "The fact that people [who] the state doesn't like are getting their rights violated isn't a coincidence."
---