Is Anwar al-Awlaki's importance to Al Qaeda overstated?
Yemeni-American cleric Anwar al-Awlaki has been referred to as an Al Qaeda leader, strategist, or ideologue – and now, as a successor to Osama bin Laden.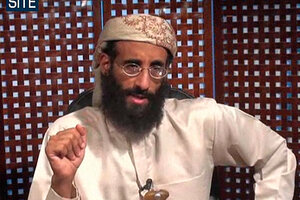 SITE Intelligence Group/AP
Following the death of Osama bin Laden in Pakistan, some Western analysts see Anwar al-Awlaki in Yemen as next in line to lead Al Qaeda because of the preacher's inspirational role in past attacks on America from a nation considered increasingly important for the global terrorism brand.
The US-born cleric has been a high priority since President Obama made him the first American approved for targeted killing in April 2010. Last week, the US confirmed that drone strikes in Shabwa province were aimed at the Yemeni-American who is said to have inspired the Fort Hood shooter, the 2009 Christmas Day underwear bomber, and last year's parcel bomb plot targeting America.
But while Mr. Awlaki may be garnering attention in the West, there is little evidence to indicate that he wields significant influence within Yemen's Al Qaeda offshoot – Al Qaeda in the Arabian Peninsula (AQAP) – much less its central command in Afghanistan and Pakistan.
---