Young protest leader sees civil war emerging in Syria
A Syrian schoolteacher who has become a protest leader in the town of Tel Kalakh, near the Lebanon border, tells the Monitor in a rare interview that he expects civil war in Syria.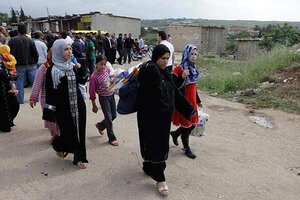 Bilal Hussein/AP
Arida, Lebanese-Syrian border
A narrow causeway of basalt boulders and steel oil drums stretching across the Kabir River on the Lebanese-Syrian border has become a lifeline for Syrians fleeing a crackdown in the nearby town of Tel Kalakh.
Among those crossing the river on Monday was a young schoolteacher who in recent weeks has emerged as the leader of the protest movement in the mainly Sunni-populated town, which lies just two miles north of the border.
He and other residents struck mixed tones of fear and defiance as the Syrian authorities continued a punishing nationwide campaign of arrests and shootings against key centers of unrest to suppress a two-month uprising that threatens to topple the regime of President Bashar al-Assad.
Calling himself Nisr min Tel Kalakh (the Eagle of Tel Kalakh), the young opposition leader, who could not be named for security reasons, says that he hopes the uprising remains peaceful. But he predicts that the intensifying crackdown by the Syrian security forces will plunge the country into an armed civil war.
"We are all expecting for Syria exactly what happened in Libya – a revolution against the regime, an armed struggle against the regime. It will happen soon," he says, in perhaps the first interview of an underground opposition leader based inside Syria with a Western reporter. Until then, he adds, the protesters are willing to die for their cause.
"We will defend ourselves by baring our chests to their bullets and fighting with our bare hands. Our cause is righteous. Even if we lose 2 or 3 million people, we are willing to put up with that high price to get what we want," he says.
Escape route
---