Iraq's Maliki signals he may let US troops extend their stay
Prime Minister Nouri al-Maliki said he may extend the Dec. 31 withdrawal deadline if at least 70 percent of Iraq's political leadership back the idea.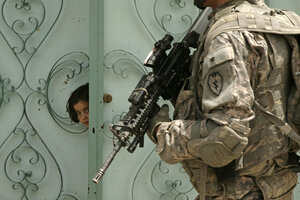 Maya Alleruzzo/AP/File
Iraqi Prime Minister Nouri al-Maliki said Wednesday that he'd engage in a months-long consultation with Iraq's many political factions before deciding whether to ask the United States to keep some troops in the country.
Mr. Maliki said he'd back a continued US troop presence if he found that at least 70 percent of the country's political leadership favored such a move. He said he'd try to reach a decision by the end of July.
The Americans "need time to prepare and get ready for the withdrawal, so they want my decision before August," he said.
The announcement was the first official indication that Maliki might be willing to ask the United States to keep troops in Iraq after Dec. 31, when they're scheduled to leave under a status of forces agreement between the countries.
The decision to extend their presence is fraught with political peril. Iraq's Kurds and Sunni Muslims favor an extension, but Shiite Muslims in Maliki's own bloc are opposed.
Maliki said his political partners preferred "that I shouldn't carry the responsibility alone." So he'll ask other political leaders whether they want US forces to remain and if so, how many, where and until when.
He indicated that the parliament would make the final decision.
---