Assad regime may be gaining upper hand in Syria
One indication of Syria's confidence is that it has not yet attempted to wreak havoc regionally – a tactic it has employed in the past when feeling threatened.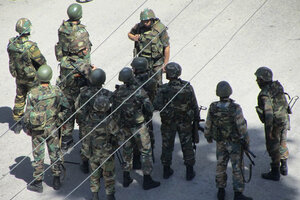 AP Photo
Demonstrations broke out across Syria on Friday despite a heavy security presence on the ground and indications that the Syrian authorities may be gaining the upper hand in the two-month confrontation that has rocked the regime of Syrian President Bashar al-Assad.
Opposition activists called for now routine Friday protests in solidarity with women killed or arrested during a three-week crackdown by the Syrian army and intelligence services. Several rebellious towns and cities are under siege and as many as 850 people have died, according to the United Nations.
In the northern city of Homs, there were reports of gunfire and at least one person killed, despite reports that Mr. Assad gave orders not to shoot protesters.
"O Bashar, your turn has come, O Bashar, leave leave," protesters chanted in Homs.
"The people have given a clear message. Maybe Bashar and his thugs can't understand Arabic," read a comment on the Syria Day of Rage Facebook page, one of several that is helping promote the uprising.
Homs at the heart of the crackdown
Homs, Syria's third largest city, has in recent days become the focus of the crackdown by security forces, with tanks and troops sealing off three districts within the city.
A fierce gun battle early Wednesday morning left at least 11 people dead, two of them soldiers. The Syrian authorities have blamed much of the violence and troop casualties on "armed terrorist gangs" and Islamic extremists. The opposition says that the protest movement is unarmed and blames the military casualties on clashes between the regime's elite army brigades and regular units who sympathize with the protesters. It is impossible to verify either account given the reporting restrictions imposed by the Syrian regime.
---