Bahrain indifferent to international criticism
In just one example, Bahrain's government failed to respond to a scathing report accusing authorities of detaining wounded protesters rather than allowing them to get treatment.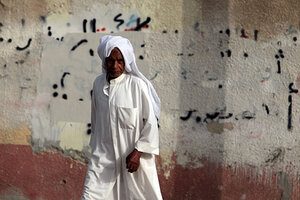 Hasan Jamali/AP
In the back alleys and streets of this Shiite Muslim town, a police crackdown looms at any hour of the day, but never more so than at nightfall, when even innocuous civil disobedience can lead to jail and perhaps torture.
The angry young men here know from experience that the police will use helicopters, blunderbuss rifles, and tear gas to confront them, but they plot their next nighttime protest march nevertheless, in what's become a cat-and-mouse game under Bahrain's state of emergency, imposed to crush what remains of the country's protest movement.
The police, mainly Sunni Muslims recruited from Pakistan's Baluchistan province as well as Yemen, Syria, and other Muslim countries, deploy three or four vans at the entrances to this town's residential neighborhoods. Inside are 12 to 20 men ready to pounce the first moment they hear of a demonstration – even a candlelight vigil – against the government.
They chase the protesters down the streets and alleys, firing birdshot from blunderbusses, while other protests spring up not far away. A visitor driving through Sitra one recent evening saw police chasing and firing in one quarter, and young men marching and chanting in another nearby.
The chants aren't ambiguous. "Down with the king," a group of about 30 young men chanted as they marched about with small tea candles, referring to King Hamad bin Isa al Khalifa, the head of the Khalifa dynasty.
---