What Arabs want to hear (or not hear) from Obama speech
In contrast with Obama's major speech two years ago in Cairo, today's address on the Middle East has generated little interest in Egypt. But Libyans and Syrians have higher hopes.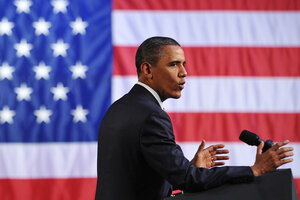 Mandel Ngan/AFP/Getty Images/Newscom
Ahead of President Obama's major address on the Middle East today, many Arabs were not even aware that he is going to present his vision for US involvement in a region transformed by the Arab Spring.
But when asked what they would like to hear, their responses ranged from a desire for the US to stay out of their affairs to pleas for help, particularly from those still oppressed by dictators in Libya and Syria.
"Obama is giving a speech?" asked downtown-Cairo newspaper hawker Mahmoud Hamza. "Why? We don't want anything from him. We got rid of [former President Hosni] Mubarak without him, and now we don't want American interference in Egypt."
Indeed, in a marked difference from the widespread interest and pockets of hope generated by Obama's speech in Cairo two years ago, many Egyptians are resentful that the US only belatedly supported their uprising against Mr. Mubarak. Now, many Egyptians envision a more independent country and a much smaller role for the US.
Emad Gad, an analyst at Cairo's Al Ahram Center for Political and Strategic Studies, says it would be wise for Obama to voice support for the uprisings in Libya and Syria. In those countries, where members of the opposition movements are fighting for their lives, some want something very different from Obama: support, or at least strong criticism of their autocratic leaders.
---