NATO airstrikes cap week of rising pressure on Libya
NATO destroyed eight Libyan warships Friday in a week that saw a push for ICC arrest warrants for Qaddafi and a tough speech from Obama supporting the rebellion.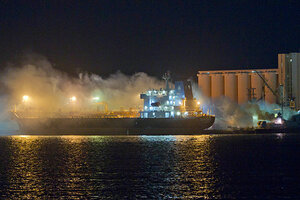 Darko Bandic/AP
NATO aircraft struck eight Libyan warships overnight Thursday, just hours after President Obama capped a week of increasing international pressure with a vow that Libyan leader Col. Muammar Qaddafi would fall from power.
"Time is working against Qaddafi," said Mr. Obama, who voiced strong support for pro-democracy uprisings in the Middle East. "When Qaddafi inevitably leaves or is forced from power, decades of provocation will come to an end and the transition to a democratic Libya can proceed."
NATO further weakened Colonel Qaddafi's regime with the airstrikes today, which commanders said came after two weeks of increased use by the Libyan Navy and the government's "systematic attacks" on civilians.
"Given the escalating use of naval assets, NATO had no choice but to take decisive action to protect the civilian population of Libya and NATO forces at sea," said Rear Adm. Russell Harding, deputy commander of the NATO operation.
---