Obama's AIPAC comments can't conceal mutual mistrust, say Israeli analysts
Israeli Prime Minister Benjamin Netanyahu expressed 'appreciation' for President Obama's comments to the American Israel Public Affairs Committee (AIPAC) on Sunday.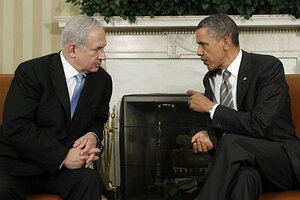 Charles Dharapak/AP
President Obama and Israeli Prime Minister Benjamin Netanyahu on Sunday sought to tone down a fresh crisis after the two clashed in public at the White House two days earlier over Mr. Obama's call for a border between Israel and a Palestinian state to be based on the 1967 line demarcating the West Bank.
Addressing a conference of the powerful American Israel Public Affairs Committee (AIPAC) on Sunday, Obama seemed to address Mr. Netanyahu's blunt assertion Friday that using the 1967 line as future border is "indefensible" by stressing that the sides would need to draw a new border that would include territorial swaps to allow Israel to incorporate some settlements into the Jewish state. Soon after Obama's speech, Netanyahu released a statement expressing "appreciation" for the remarks.
But few believe Sunday's comments can cover up what Israeli analysts see as the same lack of trust and coordination between the two administrations that has been festering for two years. That crisis will be on display in the coming days when Netanyahu addresses AIPAC on Monday and then gives a speech to Congress on Tuesday.
---
Follow Stories Like This
Get the Monitor stories you care about delivered to your inbox.