Female Saudi doctor appeals to top court for right to choose a husband
Samia fled to a women's shelter rather than be forced by her male relatives to marry a less educated cousin. Her case illustrates women's growing fight against Saudi Arabia's guardianship system.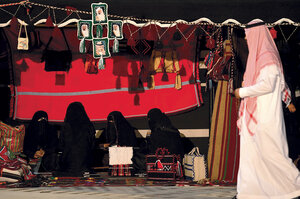 Hassan Ammar/Newscom/File
Samia is a surgeon who, as she says, is "supposed to be a grandma by now."
But she's not even married yet. As with many women in Saudi Arabia, choosing a husband was not solely up to her. Her father and brothers demanded that she marry a cousin, and, she says, beat her when she refused. For the past five years, she has lived in a shelter for battered women.
"I'm a surgeon. I'm responsible for people's lives," says Samia, now in her 40s. "I want to be responsible for my own life."
Samia's situation, described in multiple interviews both in person and via phone and e-mail, is not unusual in Saudi Arabia. It illustrates how this country's guardianship system gives men almost complete control over female relatives, as well as how little recourse women have to escape abusive guardians. She has taken her case to two courts, which both ruled against her, and she and her lawyer now seek a hearing in the country's Supreme Court.
Under Islam, a woman has the right to choose her partner, provided he is morally upright.
But the guardianship system, which stems from tribal traditions and is deeply entrenched in Saudi Arabia's culture and legal system, requires women to get their guardians' permission to marry. Although many men respect their female relatives' wishes, others do not, despite warnings from Muslim leaders.
"Forcing a woman to marry someone she does not want and preventing her from wedding [the man] whom she chooses ... is not permissible," Grand Mufti Sheikh Abdul Aziz al-Asheikh, the kingdom's top religious authority, has said.
Samia's ordeal – and escape
Samia, who comes from the holy city of Medina, asked that her real name be withheld because Saudis consider it shameful to air family disputes in public. She says that her father insists she marry one of her male cousins, even though she loves none of them. They are all much younger and less educated than she is.
---