In Yemen, Saleh's military forces showing signs of strain
Yemen may fall into the hands of its military. But the military is already strained by defections and it could splinter further – resulting in civil war.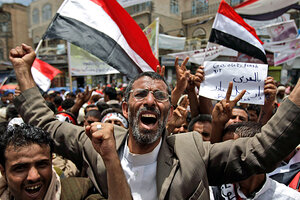 Hani Mohammed/AP
Hopes for a negotiated settlement to Yemen's mounting political crisis sank yesterday when President Ali Abdullah Saleh turned down for a third time a deal that would have offered him immunity from prosecution in exchange for stepping down.
The collapse of the Gulf-backed negotiations is the latest chapter in more than three months of steadily deteriorating relations between Saleh's ruling party and the opposition, who despite numerous rounds of talks and increased pressure from the US and Europe have been unable to agree on a suitable transition deal.
With political negotiation failing, Yemen's economy faltering, and tensions running high among protesters on the ground, analysts predict that this impoverished country may soon end up in the hands of Yemen's fractious armed forces – which could in turn lead to civil war. A key question is whether those forces still loyal to Saleh will be willing and able to suppress the swelling levels of dissent against the regime.
"The level of restiveness in the military is as high as it is in the street and there's no way of guaranteeing their loyalty," says Abdul-Ghani al-Iryani, a political analyst based in Sanaa. "In Yemen we don't really have a military as an institution, we have tribal factions in uniform, many of whom can be bought over to the other side. If he [Saleh] chooses to have a military showdown it will definitely be the end of this regime but also a lot of bloodshed."
---