Airstrikes pound Tripoli as NATO escalates Libya campaign
An increase in NATO strikes along with British and French commitment to deploy attack helicopters may be aimed at breaking a stalemate in the conflict.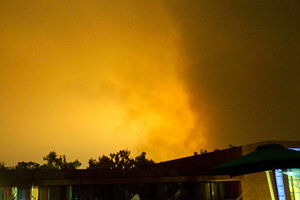 Darko Bandic/AP
The Libyan capital withstood the heaviest bombardment yet from NATO aircraft early Tuesday morning, as explosions rocked the area around Col. Muammar Qaddafi's compound.
The strikes – combined with a fresh commitment by Britain and France to deploy highly precise attack helicopters in Libya – appeared to signal a NATO escalation to break the current stalemate, if not actually target the Libyan leader.
"I think it is an absolute sign of [NATO] intensification, soon after the announcement of new military helicopters to be deployed," says an opposition activist in the capital, where some 20 thunderous blasts came in 30 minutes. "This sends a message that the focus is on the regime stronghold. This suggests that [NATO] really wants to decapitate this killing machine, rather than eat away at it."
NATO said it was targeting a facility adjacent to Col. Qaddafi's compound for vehicles that were "active" in resupplying pro-Qaddafi forces that mounted "attacks against innocent civilians." The Western military alliance, which took the lead from US military planners soon after a mid-March UN Security Council resolution authorized "all necessary means" to protect civilians, says it is not targeting individuals.
---