Fleeing violence, Syrian refugees warn of potential massacre
As thousands of Syrians crossed into Turkey with tales of violence, many described troops amassing outside Jisr al-Shughur to take revenge for the deaths of 120 security and police forces.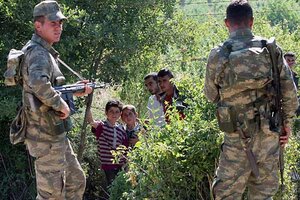 Burhan Ozbilici/AP
Syrian refugees continued to stream into Turkey Thursday, fleeing an expected revenge attack from the regime against their town of Jisr al-Shughur.
Even as Syrian forces began encircling the northwest town, Turkey said its border is open to those trying to escape the violence. By dusk Thursday, 2,400 Syrians had crossed into Turkey at this and another illegal crossing nearby.
"They are killing people, I saw that with my own eyes," says one refugee who gave his name as Abu Ali, a young man in sandals and a T-shirt from Jisr al-Shughur who crossed several times in recent weeks.
Of all the revolutions sweeping through the Middle East, none create a starker dilemma for Turkey than the one tearing apart its ally Syria. So while it is responding to the humanitarian needs of Syrian refugees, it is also going to great lengths to shield Syria from further international criticism.
Turkish police and local authorities have been ordered to prevent the refugees from telling of their experiences in a city where fighting in the past week caused the death of 120 Syrian security and policemen, according to Syrian authorities.
A closed-circuit camera has been set up along one side of a long fence around the main refugee camp in the town of Yayladagi. Police whistle and wave off journalists who approach the fence; forbidden also are hospitals, where some 35 Syrians are recovering from bullet and shrapnel wounds.
The Turkish regional governor made a visit, passing along the rolling hills, wheat fields, and olive groves of the border line – and its unofficial crossing points – in a convoy of more than 10 vehicles. He eventually stopped at the refugee camp, some miles away, but then roared past waiting journalists – blue and red lights flashing – without making a comment.
---