After a suicide bombing, an Afghan village turns against Taliban
A suicide bombing at the wedding of the chief of a US-backed Afghan village anti-insurgency unit soured even the strongest holdouts for the Taliban.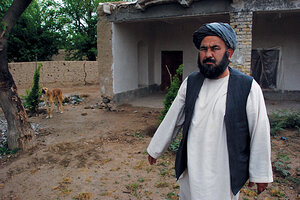 Tom A. Peter
After much hand-wringing, Abdhul Haleem came home to this farming village in the Arghandab Valley last June. He'd spent the previous year in Kandahar City to escape the insecurities of the Taliban's grip on the area. The occasion was the wedding of a friend who had joined an anti-Taliban local protection force set up by American Special Operations Forces. Their efforts, and a surge of NATO forces, had created a respite from violence.
"The people of Nagahan are in control of the village," Mr. Haleem recalls locals saying. "The situation is under control."
For all his indecision about coming back, it took only quick notice of an unfamiliar "fat-looking" wedding guest for Haleem to know the situation was not under control. He and hundreds of wedding guests sat on carpets spread in a field. He saw the man approach the cooking area and he realized the bulkiness wasn't natural – there was something under the man's clothes. In the next instant, there was a flash and a blast. Forty people were killed and nearly 90 injured – huge collateral damage for a Taliban attack aimed at the groom and a score of guests on the anti-Taliban force.
---