Feeling winds of Arab Spring, Israel douses sparks of Palestinian uprising
The trial of Palestinian protest leader Bassem Tamimi underscores Israel's eagerness to prevent small-scale demonstrations from turning into a broader movement.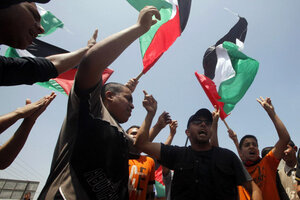 Suhaib Salem/Reuters
As a Palestinian statehood push gains traction across the globe, Israel is facing the prospect of a broader Palestinian civil disobedience movement that could put the Jewish state on the defensive.
Until now, homegrown demonstrations in the West Bank have gained little traction. A weekly protest in the village of Nabi Saleh today, for example, drew only a few dozen protesters and was quickly shut down by soldiers firing tear-gas canisters.
But with popular protest sweeping Arab neighbors through the Middle East, some believe that such small-scale protests could spark a broader uprising – one that would potentially involve Palestinian refugees in neighboring countries and their Arab supporters.
If demonstrators were unarmed, such a movement would shift sympathy to the Palestinians and further isolate Israel internationally.
"Israel is aware that times are changing, and the pressures a civil uprising can create are higher, and they are very interested in nipping it in the bud," says Jonathan Pollak, an Israeli activist who has been actively involved in West Bank protests.
Unrest on multiple fronts
Israel's army has faced unrest on multiple fronts over the past month. On May 15, Palestinians and their supporters mounted unprecedented border protests in the West Bank, Gaza, Lebanon, and Syria to mark the nakba or "catastrophe" of Israel's independence.
---