Syrian troops strike flashpoint town as refugees recount violence
The assault on the restive northwest town of Jisr al-Shughur may prove to be a pivotal moment in the rebellion against the regime of Bashar al-Assad.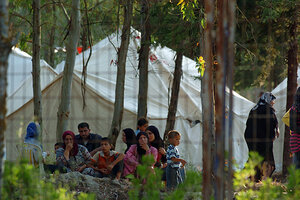 Scott Peterson/Getty Images
Syrian troops launched an assault Friday to reclaim Jisr al-Shughur, a town in northwest Syria that saw a week of violence and a mass exodus ahead of the anticipated offensive.
Announcing the start of the operation early Friday, Syrian TV claimed it was a response to "citizen" calls to "put villages around the city under control and to detain the armed elements which attacked people and committed atrocities."
But many of the 2,800 Syrians who in recent days have fled the town and neighboring villages for Turkey speak fearfully of the outcome as the regime of President Bashar al-Assad appears to be fighting for its life.
Events in Jisr al-Shughur are proving a pivotal point in the three-month rebellion against Mr. Assad's dictatorial rule that is coming under growing international scrutiny and condemnation.
Damascus says that "armed gangs" killed 120 police and security forces during days of battle last weekend in the town, which is 12 miles from Syria's northwest frontier with Turkey. But activists say pro-regime militiamen killed the troops because they refused to shoot at protesters.
---