Two years after Iran's marred election, hard-liners anything but triumphant
President Mahmoud Ahmadinejad, who was declared the 2009 winner by a landslide, and his aides have been dismissed by conservative rivals and clerics as a "deviant current" in Iran's theocracy.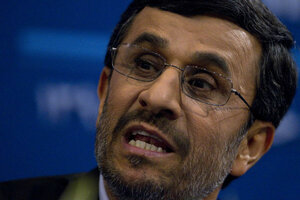 Caren Firouz/Reuters
Two years ago today, Iranians cast ballots in a presidential election that would yield violence and change in the Islamic Republic like no vote before it.
In an election marred with allegations of blatant fraud, President Mahmoud Ahmadinejad was given a landslide reelection victory that was hailed by supreme leader Ayatollah Ali Khamenei as a "divine assessment."
Yet today the testy president and his aides have challenged the power of Mr. Khamenei. Conservative rivals now dismiss them as a "deviant current" obsessed with the imminent return of the Shiite messiah.
Close aides have been arrested for sorcery and witchcraft, and there is talk that Mr. Ahmadinejad will not survive the rest of his four-year term. The leader's deputy representative to the Revolutionary Guard even declared this week that "the current of deviation … is the gravest danger in the history of Shiite Islam."
So while the regime was successful in brutally putting down the largest popular protests since the 1979 Islamic revolution, it appears anything but triumphant today.
Iran's unique system of government – a blend of preeminent theological and declared democratic values that are often in tension with each other ­– once sought to offer a model to the world.
Instead, even as hard-line leaders proclaim the Islamic Republic to be at the peak of its powers, the events of the past two years have exposed political dysfunction.
Iran "simply has not developed the institutions and rules that are needed to prevent very unsettling change," says Farideh Farhi, an Iran specialist at the University of Hawaii at Manoa. "So rather than moving toward stabilization … what we see is a system that is constantly faced with deepening political turmoil."
---