Syrian Army deserter: 'We were ordered to shoot on the people'
Darwish Mohammed Fidou deserted his unit after he was given orders to fire directly on civilians. His story bolsters growing reports of dissent within Syria's military.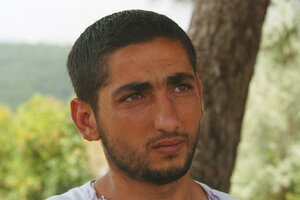 Scott Peterson/Getty Images
Amid the gathering human toll of Syria's three-month rebellion, a rare interview with one deserting soldier may appear little more than a footnote.
But the saga of Darwish Mohammed Fidou helps explain why already some 1,300 Syrians have died and an estimated 10,000 have fled the violence to Turkey and Lebanon.
Mr. Fidou was part of a military unit ordered to fire on protesters in the city of Homs, who refused and then deserted, taking part in antiregime protests in the northwest town of Jisr al-Shughur.
As he escaped the violence there last week, he says he witnessed soldiers shooting at each other, an Army divided further by orders to kill demonstrators.
"My heart is broken to watch my people die, the Syrian people die, to see such a thing as this," says Fidou. "It was the same when I had orders to shoot on the people – it broke my heart."
'Cows killed, harvest burnt'
Syria has effectively banned all foreign reporters from the country, making it impossible to verify Fidou's claims.
But already 7,000 Syrians have crossed the border into Turkey in the past week, fleeing before a Syrian military advance to avenge the deaths of 120 police and security forces in Jisr al-Shughur.
The town fell with little resistance, and refugees and Turks living along the border say the offensive has spread to a string of villages around the town.
"The cows were killed, the harvest was burnt," says a young Turkish man who gave only his first name of Ali, who has traveled with a video camera to the contested areas in recent days and witnessed the onslaught. His footage has been running on Turkish news channels.
In one house with "blood all over the walls," says Ali, "we couldn't breathe" because of the stench of bodies of three men, eight women, and three boys.
---