Can fresh Morocco protests build momentum for reform?
Thousands of activists took to the streets Sunday, but many Moroccans are satisfied at the pace of change in the kingdom, especially after King Mohammed VI's Friday speech promising reforms.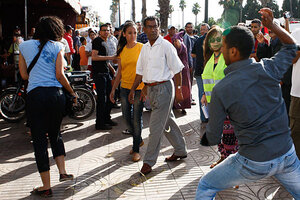 Abdeljalil Bounhar/AP
Morocco's pro-democracy activists launched fresh protests Sunday, despite King Mohammed VI's Friday speech announcing a draft constitution that would limit the powers of his country's centuries-old monarchy.
"We are sticking to our demands," says Elabadila Maaelaynine, who joined thousands of other protesters in Casablanca to reject the king's proposals, which they say don't go nearly far enough.
Rival protesters supporting the king – some genuine, others reportedly pushed by local authorities to speak in his favor – also took to the streets, and the pro-democracy demonstrators had to change their location after they were "attacked" with bottles and sticks by pro-king demonstrators, says Mr. Maaelaynine.
Despite a groundswell of support for democratic reform, however, many Moroccans are satisfied at the pace of change in the kingdom and want to avoid the type of tumultuous "Arab Spring" revolutions they've seen in fellow North African countries, such as Tunisia and Egypt.
"Imagine if the king suddenly says that he is going away … there will be chaos," says Mohammed Montasir, a journalist in the northern city of Fes, adding that Moroccans are not seeking a revolution but a "movement against privileges" of the ruling elite.
How much reform is enough?
For four months now, activists have campaigned for the king to transfer powers to elected representatives and reign only as a symbolic head.
---