Assad's speech may buy time, but not survival
Syrian President Bashar al-Assad gave his first speech in two months today, offering elections and reforms this summer in an apparent bid to secure the patience of Syria's silent majority.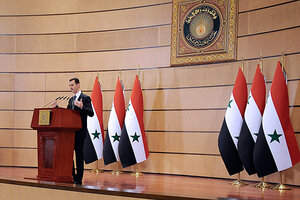 Sana/Reuters
Syrian President Bashar al-Assad offered promises of imminent elections and reforms today as as part of a "national dialogue" process that could lead to a new constitution and possibly end the dominance of the ruling Baath Party.
But while Mr. Assad acknowledged that Syria has experienced "difficult days" since his last speech two months ago, his framing of the crisis and his proposals for addressing it fell far short of opposition demands. Fresh protests immediately broke out in cities around the country.
"Today, after 98 days of protests, he is living in denial," says Rami Nakhle, a Syrian working in Beirut with the Local Coordination Committees, a clearinghouse for Syrian opposition protests and activities. "It has become clear to everybody that Bashar al-Assad cannot change. He doesn't realize that Syria has changed forever but he's still the same president we heard last time, in April."
Rather than directly addressing the opposition protest movement, Assad's comments appeared intended mainly for the silent mass of Syrians who support the call for reforms and greater freedoms, but have chosen not to take to the streets out of fear that the collapse of the Assad regime could plunge the country into sectarian bloodshed.
Assad's promises of change, and talk of parliamentary elections in August and a dialogue with the opposition may help buy the regime some extra time. However, the uprising has shown remarkable durability since it began three months ago, despite a ruthless crackdown by troops and security forces that has left an estimated 1,500 people dead and provoked increasing anger from the international community.
---