Libya rebel council prepares for the day after Qaddafi
The council, responding to grumbling that they'll make a power grab once Muammar Qaddafi is deposed, says it's preparing for a democratic transition that's fair for all Libyans.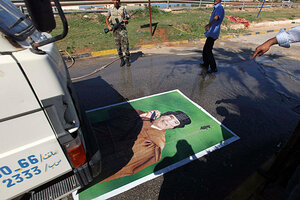 Esam Al-Fetori/Reuters
The rebel council that sprang up in Libya's liberated eastern cities in February and March has done an admirable job of presenting a united face to the world of the country's rebellion against Muammar Qaddafi.
The group has racked up a string of diplomatic victories, with a dozen countries recognizing them as the "legitimate" representatives of the Libyan people. This week, the group even received praise from China.
But there has also been growing unease that the collection of regime defectors, lawyers, and businessmen, most with roots in the country's east, could be setting themselves up for a power grab once Qaddafi goes.
Rebel fighters in the west of the country have been grumbling that they have little voice with the Transitional National Council (TNC), and others have worried that months of talk about drafting a new Libyan constitution could lead to a document that favors eastern Libyan, not national, interests. The rumblings of dissent – faint to be sure – have had some analysts worried about a war after the war.
Now the council says it hears those concerns, and is taking steps to address them. Fathi Mohammed Baja, head of political affairs for the TNC, says that while a "provisional constitution for the transitional period" was agreed to by the TNC's members on Sunday, that it is neither permanent or binding. He insists TNC leaders won't seek power in a post-Qaddafi Libya, and is taking steps to reach out to and coordinate with resistance figures in the west of the country.
---