UN tribunal indicts Hezbollah members in Hariri assassination
The highly anticipated indictments could help bring accountability for former prime minister Rafik Hariri's 2005 assassination. But they could also stir sectarian tensions.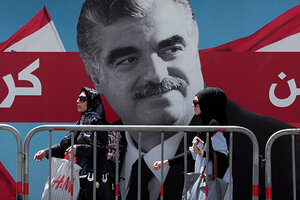 Hussein Malla/AP
A United Nations tribunal on Thursday handed over its first set of indictments in a six-year investigation into the murder of Rafik Hariri, a former Lebanese prime minister, naming at least two members of Hezbollah.
While the highly anticipated indictments move the Special Tribunal for Lebanon closer to its goal of establishing greater accountability in Lebanon, they could also have serious repercussions. The tribunal's fingering of Lebanon's militant Shiite Hezbollah movement as playing a role in the assassination of a powerful Sunni politician is expected to antagonize sectarian relations in Lebanon, which already are frayed as a result of three months anti-regime violence in neighboring Syria.
"We should set the country's peace above all else as the indictments are not judgments," said Najib Mikati, the Lebanese prime minister, following the release of the indictments. "The sensitivity of the circumstances call on us to act reasonably to prevent those seeking to create strife from achieving their goals.
The focus on Hezbollah has relieved some pressure on the Syrian regime, which was initially blamed by many for Hariri's murder. However, sources close to the tribunal say that the working assumption of the investigators is that the order for Hariri's assassination came from the Syrian leadership, possibly in coordination with Iran, even if a unit within Hezbollah was contracted to carry out the operation. More indictments are possible depending on the progress of the investigation.
---