Divided by Yemen's Saleh: Two brothers fight on opposite sides
One brother is fighting to oust Yemen's President Saleh; the other is a proud member of his Revolutionary Guard. They respect each other, but could end up divided by civil war.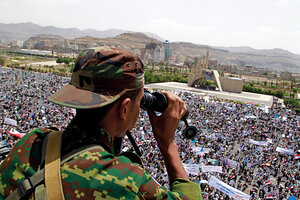 Khaled Abdullah/Reuters
In the eyes of Hashim, an antigovernment activist and writer fond of quoting Islamic philosophers, Yemen's peaceful struggle for democracy is divinely ordained.
But his brother, a member of Yemen's elite Republican Guard, sees it differently. Ghazi says Yemen's uprising is driven not by democratic aspirations but by bandits trying to incite chaos. "They have attacked power stations, cut off supply lines to major cities," he points out.
Hashim loves and respects his brother, but challenges his loyalty to the Republican Guard, which is part of President Ali Abdullah Saleh's state military apparatus that has violently suppressed protests since soldiers opened fire on demonstrators in Feb­ruary.
Hashim recently asked him point-blank, "If you were ordered to shoot protesters, would you?"
"He said yes," recounts Hashim, seated next to Ghazi in his modest Sanaa home. "It was unbelievable."
"Of course I would shoot them," responds Ghazi, partaking of tea and a traditional stew prepared by his brother's new wife. "They are criminals and are traitors to our leader. I would follow orders."
Hashim and Ghazi, whose real names could not be used for fear of retribution, illustrate the deep fissures within Yemeni society that threaten to tear the country apart. Tribesmen, rival military factions, peaceful protesters, and even brothers may end up on opposing sides of a prolonged civil war should President Saleh or his relatives insist on retaining power.
President Saleh makes first appearance since June 3 attack
So far, the conflict has been largely contained to one powerful tribal confederation battling Saleh loyalists in the capital. While Mr. Saleh is convalescing in Saudi Arabia from a June 3 attack on his compound, his son Ahmed relaxes in the presidential palace and security forces patrol the streets.
---