Key force in Tahrir Square: Egypt's labor movement
Kamal Abu Eitta endured years of torture and arrest trying to build an independent labor movement in Egypt. Now organized labor is trying to emerge as a real force in Egypt's transition.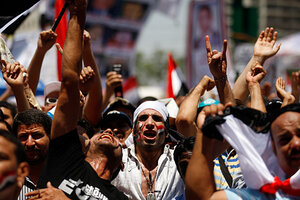 Khalil Hamra/AP
Inside a century-old building in downtown Cairo, Kamal Abu Eitta springs from his chair, throws his hands behind his back and raises them high above his head – reenacting a type of torture he endured during Hosni Mubarak's regime.
A long-time labor activist during Mr. Mubarak's rule, Mr. Abu Eitta says he faced years of singeing by fire, bouts of electric shocks, and sessions of whipping while he hung on the wall in a position of crucifixion.
He was just one of thousands of Egyptians gathered in Tahrir Square today demanding faster trials of allegedly corrupt former officials and speedier reform. But he was also there for another reason: to continue the fight for workers' rights that he and many others have waged for decades.
The labor movement, at a time of populist economic anger and, could become one of the most influential forces during this critical period of transition in Egypt.
"The labor force is the only social force acting on a daily basis," says activist and journalist Hossam al-Hamalawy. "You can bomb Tahrir Square if you want to, but if there's a general strike, what can you do?"
Labor rises
Egyptian labor first rose in 1919 when people across the country demonstrated against British rule, propelling the nation toward independence. The largest strike in the nation's history took place in 1947 at Mahallah al Kubra, the nation's largest industrial center and home to the first textile factory in Egypt, which spawned decades of Egyptian dominance in the industry.
---